Image via Wikipedia
How To Fix 404 Error Codes
I noticed last week that I started getting 404 error codes on a site that I had changed my permalink structure in.
So I did a search on how to fix the errors. I found tons of useless information and went through about ten tech sites before I discovered the right help on correcting the 404 errors.
I discovered that I missed a step when I switched the code. This is a warning to all of you should you decide to change your permalinks on a wordpress site that you have had for a while.
When you change your permalink structure, all previous links will change and be broken from what they originally were. BAD BAD BAD…
There are ways to do it the right way but I am not going to get in to that on this post. This one is just to show you how to fix the 404 errors after you have changed your permalinks the wrong way.
If you have done this get it fixed as soon as possible.
O.k, so here is the good news!
I finally found the right plug in that fixed my 404 errors.
Go to your plugins option in your wordpress dashboard and search for Deans Permalink Migration.
This is one cool plugin that is way easier than the others I tried to noodle around with.
I have provided a set of screenshots for you to help you get through it even quicker.
Step 1: Go to your dashboard and select new plugin.

Step 2:
Search for Deans Permalink Migration and install it.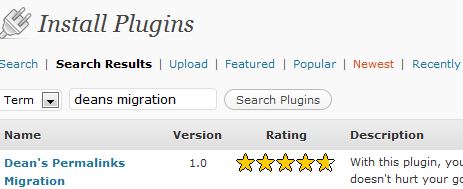 Step 3: Activate the Plugin

Step 4: Go to your settings tab and look for PermalinksMigration in the drop down menu.
Step 5: You sill see a box that has your permalink setting in it. Change it to a new one here. I suggest from personal testing to use the %postname% structure. Out of all the permalink structures I have tested in the past, this seems to work the best for me. Of course it's your decision on how you like to have your permalinks set.

Hit the update options and you are done! This takes about 3 minutes to complete and finally get your page back in order.
Oh, one more tip… You may still see that you have 404 error codes that end in /favicon . From the research I did on this, the favicon error code is not a bad thing. It just means folks are hitting your site pretty much.  If you are not sure if you are getting 404 errors, you should also grab the 404 notifier plugin. The 404 notifier plugin sends you an email every time you get a 404 error on your site.
Hope this helps!
Related articles on 404 error codes