Why I Choose Aweber For My Email Follow Up, Broadcast and Rss Emails.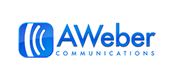 While there are many email services to choose from, I personally have found that Aweber is right choice for my campaigns.
Here's why. Aweber has an easy to use interface with updates and tutorials to walk you through many of the features they offer. I have used Aweber for about three years now and have never had an issue with them. My emails get delivered on time and I am notified instantly when a subscriber clicks on a link to one of my sites or on an affiliate link. This helps me keep track of the types of emails I send out and weather or not they are effective.
If my click through rate is low, I know about it right away and can test different content in the subject lines as well as the body of the email itself.

Testing is so important yet so many just don't do it. Aweber makes this easy for you. Doing tests and split test are vital to increasing your open and click through rates. You do this by segmenting your list and creating rules. You will have an option to see who has not opened your email. You can then collect all of the unopened emails category and then give it another shot with a new subject line.
Let's say your email was opened but a low click through rate is occurring. You would take that list and re-work your content within the email itself. Basically, if your email is not of value or interesting enough, yeah, no click. TEST TEST TEST…
About RSS Blog Broadcasts:
I recently read an article posted on the the rss "Blog Broadcast Feature" form a fellow marketer that was not impressed with that particular feature. While I get the frustration many may have with the feature, I must say I have personally had fantastic results with it. It is all about how you set your campaigns up to not over do it on giving your subscribers too many emails.
So, what about the other email service companies out there? Most all of them have the same functions. Some are more costly than Aweber but do have a couple of extras. Nothing to write home about as of this writing. "I will be weighing on Icontact in a future post"
Here's a look at the RSS feature. Also know, that many folks out there still have no idea how to use rss. Using this feature will ensure that your loyal followers and subscribers will get your valuable information. When you sign up with Aweber, do not over look this fantastic feature to use.

Get Updated With Tips And Tricks of The Trade..