Here's a cool little keyword tool I'll let you all in on that you may not know about yet. Most of you may but some may not. I have to admit, I just learned about this one about 5 months ago.. sorry it took so long to write about it.
How to use the Wonder Wheel to Maximize Your Affiliate Sales.
Lets say you have a new campaign coming up for an affiliate product you are preparing to launch. You need inspiration to write about the product and need it fast. You also want to drill down on some kick butt keywords and phrases and get them in a review article you want to write about. Hmmm, so your wheels are spinning as you wonder what the heck to write! yeah I know, big play on words but I just had to….
Alright, this is where the big "G" comes in. When you do a search through Google, you will notice on the left hand side of the search pages a link that says "Wonder Wheel" it may be hidden in a link that says more tools.
So how can this tool help you? well it's basically doing the research for you for related search terms and keywords.
Let's take a look at the funnel in a random category. Say your category is in dating. Oh and by the way, the dating category is one of the top three niches in the world to be in. HINT… It is competitive but profitable.
Take a look at this: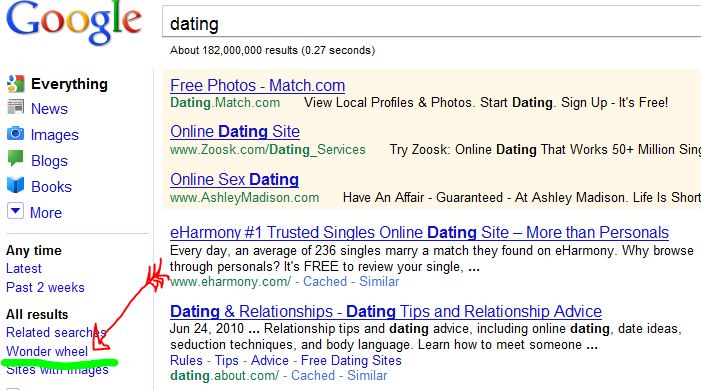 So we started with the keyword "Dating" If you already have a domain name that has the word dating in the url you are already ahead of the game.
What to do next? Take a good look at the wonder wheel related search. This will give you ideas for categories on your site.
Now we have suggested related keywords that Google is suggesting.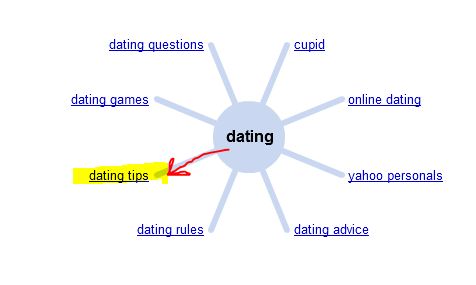 Dig even more… And you have some incredible ideas for your post titles.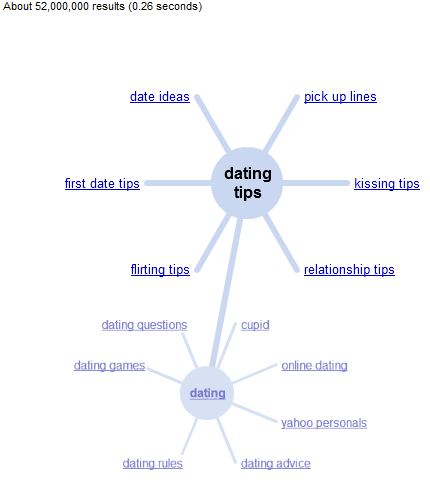 Need to see the Wonder Wheel in action?
Have fun with it.
Articles Related to Google Wonder Wheel:
enhance by: Utility Poster
How to use Google Wonder Wheel to Find Keywords | chymenk personal …
Find Keywords use Google Wonder Wheel how to.
Publish Date: 06/16/2010 8:02
http://chymenk.com/2010/06/16/how-to-use-google-wonder-wheel-to-find-keywords/